August 18, 2018
About eight-hundred first-year students and 200 transfer students got a rousing welcome into the Bulldog family at UNC Asheville's 2018 Convocation, along with a crash course in taking advantage of their own superpowers.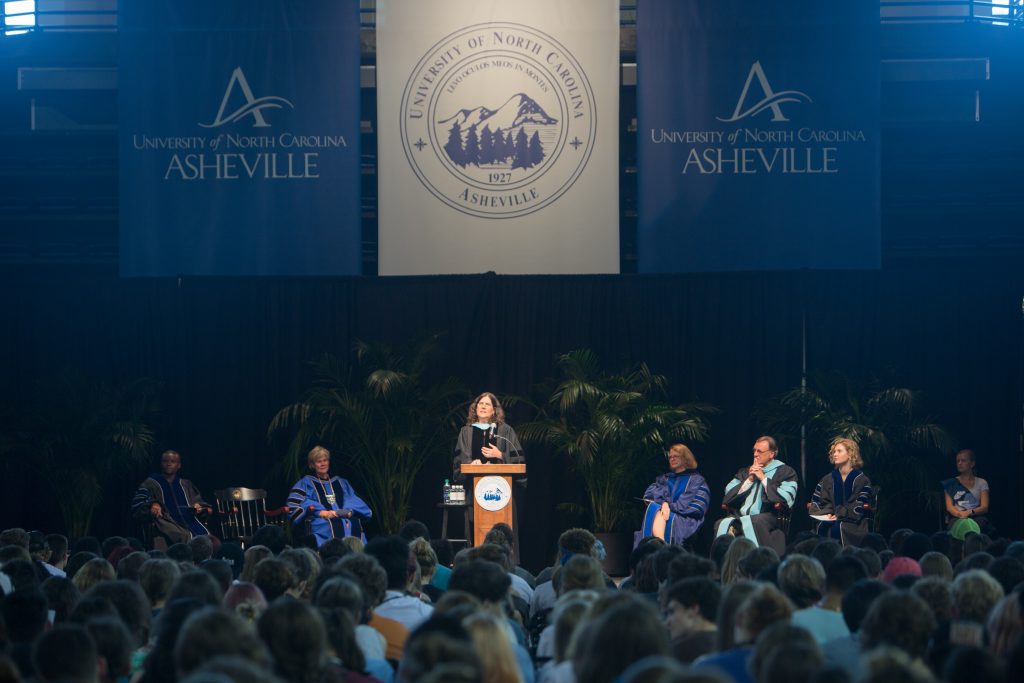 Professor of Education and the 2017 recipient of the Distinguished Teaching Award Nancy Ruppert identified everyone's five innate superpowers: "Those who are most successful experience some balance across all five areas: physical, social, emotional, intellectual, and spiritual." She asked the students in the audience to rate each of their superpowers and tell their neighbors, saying, "Check on one another's superpowers, because that's what we do here at UNC Asheville." To double up on the lesson, she sang parts of the alma mater in the background while students chatted to familiarize them with their new university's song.
Student speaker Carolyn Schweitz used the features of the American Basswood tree, the graduating class' gift to the incoming class, to offer advice to her fellow students. In describing the medicinal purposes of the American Basswood, she told students, "Take care of yourself. …Don't be afraid to just take a moment to breathe. Our administration, our faculty and staff, your peers, our Health and Counseling Center: all these resources and more are here to help you in your success."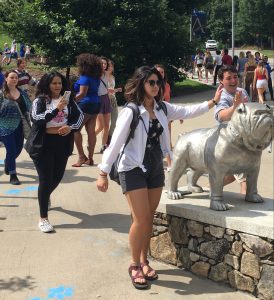 New students also got some passionate, straightforward words of wisdom from Student Government Association President Michael Davis to be true to themselves, get involved on campus, and seek out the knowledge of their faculty members.
UNC Asheville's eighth Chancellor Nancy J. Cable echoed that advice and spoke of the strong community that looks forward to supporting its newest members: "No matter the road you traveled to get here today—you are here—surrounded by family, new friends, new colleagues, and a faculty and staff who are ready to be part of shaping your next set of experiences."
As Chancellor Cable summed up, "It's a great day to be a Bulldog!"
Quick Facts for the Incoming Class:
Eighty-five percent of incoming students come from North Carolina, with 15 percent coming from 34 other states and countries.
First-time, first-year students of color have increased to 22.8 percent of the Class of 2022 and international students this academic year number 36, hailing from countries including Brazil, Germany, Nigeria, Mexico, South Africa, Thailand, and Spain.
About 25 percent of incoming transfer students come from Asheville's A-B Tech.
About 42 percent of students entering from high school bring transfer credits and college coursework with them.