October 23, 2018
Brooklyn Rider, the acclaimed string quartet, will offer a performance and series of workshops on and off campus, Nov. 6-9 during a residency in Asheville as the university's Black Mountain College Legacy Fellows for fall semester 2018. The quartet's concert performance as part of the residency will take place at 7 p.m. on Wednesday, Nov. 7, at Black Mountain College Museum + Arts Center in downtown Asheville. (see schedule below for details and ticket information)
"We can't wait to be in Asheville, which, though it will be our first official performance there, is a place that we've been to and loved," said Brooklyn Rider's violinist Colin Jacobsen. Completing the Brooklyn, N.Y.-based quartet are violinist Johnny Gandelsman, violist Nicholas Cords, and cellist Michael Nicolas. Brooklyn Rider's performance venues have ranged from Lincoln Center, Carnegie Hall and the Spoleto Festival, to the SXSW Festival in Austin, Texas. In September, Brooklyn Rider released its newest album, Dreamers – a collaboration with Mexican jazz singer Magos Herrera.
"Asheville's open-mindedness to all kinds of music and cultural experiences, (the home of the Moog!), the combination of deep roots and experimentation all feel related to Brooklyn Rider's birthplace," said Jacobsen. "It will be great to get to know the community deeper through the interactions with students, faculty and audience made possible by our residency at UNC Asheville.
"The focus of the residency will be our program Healing Modes and the idea of healing in music, as manifested through one of Beethoven's late and transcendental string quartets," said Jacobsen. "He wrote the piece in thanks to the divine spirit after a near-death illness, and we've asked five composers from diverse cultural and musical perspectives to respond to the theme, including Matana Roberts from the jazz/experimental world, Pulitzer Prize-winning composer Caroline Shaw and Indian-American composer Reena Ismail."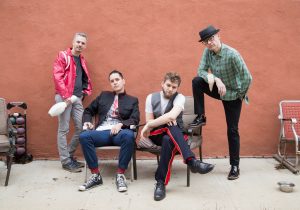 UNC Asheville students have been sampling Brooklyn Rider's music in advance of the residency, thanks to Ben Smith, who directs UNC Asheville's student string quartet and string camerata orchestra programs. "What's gotten the students excited is that Brooklyn Rider plays across so many genres of music," said Smith. "If you sample their recordings, you'll hear them play Debussy, then some jazz pieces … you'll hear them collaborate with artists like Béla Fleck, Swedish mezzo-soprano Anne Sofie von Otter, and Irish fiddler Martin Hayes. They're very amazing and very different. They have so many skills across so many genres and our students are responding to that."
Brooklyn Rider Residency Schedule
Tuesday, Nov. 6 – Community workshop, free and open to everyone. 4 p.m. off-campus at BMCM+AC, 120 College St., Asheville.
Wednesday, Nov. 7 – Performance: Healing Modes. Brooklyn Rider will play the slow movement of Beethoven's Opus 132, inscribed by the composer as a "song of holy thanksgiving from a convalescent deity in the Lydian mode," and five compact new commissions that explore the subject of healing. The composers are Tyondai Braxton, Reena Esmail, Gabriela Lena Frank, Matana Roberts and recent Pulitzer Prize winner Caroline Shaw. 7 p.m. off-campus at BMCM+AC, 120 College St., Asheville. Tickets are $15 and $10 for students and BMCM+AC members. Free for UNC Asheville students, faculty and staff. Online tickets at blackmountaincollege.org/brooklyn-rider.
Thursday, Nov. 8 – Master Class welcoming classical, jazz and bluegrass musicians, and open to everyone. Free. Noon, Lipinsky Hall Room 018.
Friday, Nov. 9 – Workshop and panel discussion with participation from UNC Asheville students and faculty. Free and open to everyone. 2 p.m.in Lipinsky Auditorium.
About UNC Asheville's Black Mountain College Legacy Fellows Program
Between 1933 and 1957, Black Mountain College engaged leading artists, scientists and other scholars in interdisciplinary study and a spirit of intellectual exploration, while also focusing on contemporary issues.
Mary Emma Harris, a scholar of Black Mountain College's history, was the inaugural Black Mountain College Legacy Fellow during fall semester 2016, and anthropologist and poet Renato Rosaldo was the second fellow during the spring of 2017.
Artist Mel Chin was the fall 2017 BMC Legacy Fellow, and together with UNC Asheville's STEAM Studio students, faculty and staff, he created Wake, an animatronic sculpture that was exhibited in New York City's Times Square last summer. In spring 2018, experimental philosopher and conceptual artist Jonathon Keats was the BMC Legacy fellow, and he worked with students to create what he called a "universal orchestra" with sounds aimed at the cosmos.
The Black Mountain College Legacy Fellows Program is funded through a $180,000 grant from the Windgate Foundation and a partnership between the Black Mountain College Museum + Arts Center and UNC Asheville. For information about upcoming BMCM+AC events, visit blackmountaincollege.org/events.
About UNC Asheville
UNC Asheville is the designated liberal arts and sciences institution for the UNC system and one of the nation's top 10 public liberal arts universities. Enrolling 3,800 students and offering more than 30 undergraduate majors and a Master of Liberal Arts and Sciences degree, UNC Asheville encourages students to take part in a nationally acclaimed undergraduate research program and participate in interdisciplinary learning. From internships and hands-on projects, to study abroad and community engagement, students experience an education that extends beyond campus into the vibrant City of Asheville, the surrounding Blue Ridge Mountains and the world. Learn more at www.unca.edu.
About BMCM+AC
The Black Mountain College Museum + Arts Center (BMCM+AC) preserves and continues the legacy of educational and artistic innovation of Black Mountain College (BMC). They achieve their mission through collection, conservation, and educational activities including exhibitions, publications, and public programs.
Arts advocate Mary Holden founded BMCM+AC in 1993 to celebrate the history of Black Mountain College as a forerunner in progressive interdisciplinary education and to explore its extraordinary impact on modern and contemporary art, dance, theater, music, and performance. Today, the museum remains committed to educating the public about BMC's history and raising awareness of its extensive legacy. Their goal is to provide a gathering point for people from a variety of backgrounds to interact through art, ideas, and discourse.