January 3, 2020
By Tris Lashea '22
College is an exciting time–you're exploring new ideas, meeting new people, and preparing to go out into the world to face new challenges and opportunities. But exploration and change can be difficult, too. You're away from home, maybe for the first time, and keeping up with classes while maintaining a social life can be really stressful. Those stressors can put a strain on your mental health.
UNC Asheville offers many resources, organizations, and events to promote positive mental health and help students navigate the stressors of college, including the Health and Counseling Center, Peers Educating Peers and Advocating Health (PEPAH), therapy dogs, and Fresh Check Day, a mental health promotion and suicide prevention event geared specifically to college students.
"Thirty-nine percent of college students report having mental health issues that interfere with their academic success and two out of three students don't seek help for their mental health needs," said Kenda Mullert, health promotion coordinator and coordinator for PEPAH. "It's important to realize that just because we can't see the illness, doesn't mean that it doesn't exist. Every part of our health–social, physical, and mental–impacts our success, both as a person and as a student."
Mental Health Advocacy
Events like Fresh Check Day, which was held at UNC Asheville on Oct. 22, 2019, promote mental well-being and campus community through many student-led organizations. Students being able to learn and connect to other students is the best way to learn about mental health promotion and self-care, Mullert said. There was a room full of booths from student groups, organizations and off-campus resources all with activities in order to promote wellbeing and share positive mental health exercises for students.
"Community is one of the best ways to work through the ups and downs of college life," Mullert said.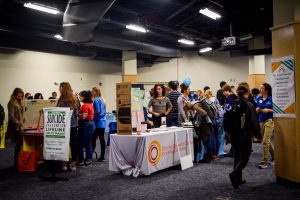 The variety of groups who participated in Fresh Check Day, including athletics, student government and Greek life, showed that mental well-being doesn't have just one look. Similarly, mental health issues can take many forms, such as eating disorders.
"Eating disorders are 50 to 80% genetic. So they're not a choice. Although society tends to see them more like a vanity issue it's definitely a mental health issue," said Ellise VanGilder, program assistant for CRC for ED (Carolina Resources Center for Eating Disorders) at Fresh Check Day. "So part of recovery is definitely food, but also it's a mental illness and making sure that you're getting the right resources and the right treatment for that."
Carolina Resource Center for Eating Disorders offers referrals for therapy, treatment center, nutritionists and have weekly support groups. CRC for ED is one of the off-campus resources for special mental health illness.
"There's a stigma that eating disorders look like one thing. I feel like a lot of people feel that there is one image of what eating disorder looks like and that's not the case. Eating disorders don't discriminate. The race, gender, age anybody is can have an eating disorder," VanGilder said.
Mental illness affects all types of people and it's different for each person, so finding the best method of treatment for you is important.
Supportive Communities and Student Organizations
There are many student communities, groups, and organizations for students to become a part of and grow relationships.
"A really big issue within the LGBT community is that there's a lot of fear. People don't have access to the resources and don't have a supportive environment," says MJ Gamelin, a drama major, was working the LGBTQ booth at Fresh Check Day. Either their family isn't supportive or if they can, they don't have a supportive group of friends to help them through whatever mental health issues they might be going through."
There are two supportive on-campus resources for the LGBTQ community on campus. Hyannis House, located at 24 Hyannis Drive, is a resource on campus for queer people and survivors of sexual violence. The Trans Student Union is a student organization for transgender and nonconforming students on campus.
"There are always people who will love you and accept you, whether it's in Hyannis House or in Trans Student Union or in other groups on campus. There's always going to be someone to help you through whatever," said Gamelin.
Beyond the resources of the campus itself, there are many clubs and student organizations that students can join to make friends and build community while attending to your mental health, such as the Mindfulness Club.
"We are a club that meets every Tuesday and we just do meditation, yoga, mindful eating, mindful walking, like just stuff like that to help you relax and center yourself and be in the present," said Abby Eckler, a freshman in the Mindfulness Club.
Eckler believes that learning how to meditate, slowing down your breathing, and learning how to focus on yourself, and to be in the present and centered is a good way to learn how to cope with mental health struggles.
"Mindfulness is helpful because it gives you skills to just sit and to help deal with whatever you're feeling to not become overwhelmed," she said.
PEPAH is one of the most active student organizations on campus that promote health such as sex education, guest lectures, positive mental health, and self-care.
"I think the reason this group of interns cares so much is we've all had personal experiences with this topic in particular," said Dori Harcharik, a psychology major who is in the PEPAH yearlong internship for the first time this year, and she is co-director of PEPAH crew. "I think because of that we're really able to hone in on what we think students going through those experiences might need."
There are multiple focus groups within PEPAH, each group focus on one issue that they wish to concentrate on to reach out and work on such topic or populations through campus-wide initiatives.
Campus Resources for UNC Asheville Students
Harcharik says there are many resources on campus for students, such as the Care and Concern Team, 24/7 mobile crisis and collegiate recovery community.
"Care and Concern Team is a group of staff from Health and Counseling, Student Affairs and Academic Affairs, led by the Dean of Students, that meets every other week to check up on students that have been brought to their attention. I mean any students can contact health and counseling and say, 'Hey, there's this person. I'm really concerned about them for whatever reason,'" she said.
Mobile Crisis is a 24-hour open space that is open to anybody to have a timeout to talk to people, think and get quick attention. This place is open for medical issues, addiction or mental health crises.
The collegiate recovery community is for any student who is interested or going through a personal experience with any type of recovery such as gambling, substance abuse, or eating disorders.
"I think we need to realize that we can develop anxiety, depression, that those symptoms can just happen to you when you've never had mental health issues before. A lot of people have this idea that the mental health issues they're experiencing are not normal when it actually very much is," Harcharik said.
It's completely normal to experience mental health issues and struggle during this challenging and new time, but there are ways to cope with it. Getting to know your resources, joining organizations or even something as simple as going to rec classes can make you feel less alone and begin to create community. UNC Asheville has many people and resources that you can connect with to help you cope with whatever struggles you may be experiencing so that you can be healthy and happy throughout your college career.
Resources:

Health and Counseling: 828-251-6520

Bulldog Healthlink: 1-888-267-3675

Mobile Crisis (24/7): 1-888-573-1006

Comprehensive Care Center: 828-254-2700

Suicide Prevention Hotline: 1-800-273-TALK

Other resources to support you: your RA, Area Directors, faculty advisors, Office of the Dean of Students and Title IX office