May 3, 2019
Cisco Systems is deploying a creative solution to achieve a new zero waste goal for its Research Triangle Park (RTP) campus. With a current waste diversion rate around 65%, getting to zero waste (diverting 90% of all waste generated on campus from landfill) is no easy feat. Part of the strategy to meet this goal is to add composting and prioritize the use of reusable dishes in its cafeteria. To help manage the influx of reusable items (replacing the 15,000 disposable items previously used on-site each week), Cisco has partnered with UNC Asheville to test the viability of a reusable dish collecting robot set to commence on- site testing May 8th.
At 2 ft tall with LIDAR (Light Detection and Ranging) technology and mecanum wheels, the robot (dubbed C15CO or C15 for short) uses intelligent sensing and control algorithms to move in a large office environment with many desks and cubicles. C15 has the ability to recognize the human form and will help employees transport reusable dishes from the four floors of one of Cisco's buildings to the kitchen for cleaning.
C15 is designed to operate during the day on a single charge, recharge overnight and be ready to work again the next day. The students also utilized UNC Asheville's STEAM Studio,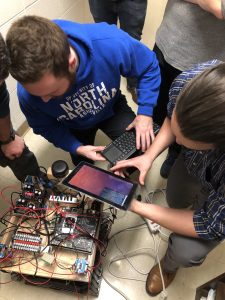 mostly notably to create the customized exterior shell and geometrically unique gripper that catches and holds the dish cart, even around corners.
As part of Cisco's ongoing support for local universities, Cisco Systems provided $10,000 for the project, with $1,000 in funding from NC State. The project has been in process for almost a year, with a team of 10 UNC Asheville students devoted to the design as part of their senior capstone project, along with two faculty advisors, Engineering Design Studio Lab Manager Jim Dale and Chair and Distinguished Professor of Engineering Mahmut Reyhanoglu. The project is one of the largest in the program's history and exemplifies the work of the Mechatronics Engineering Program, which combines electrical, mechanical and computer engineering and is offered jointly by UNC Asheville and NC State. It's only one of a few such programs in the nation.
"The students are drawing on four years of accumulated science and engineering knowledge as well as their own creativity,'' Dr. Reyhanoglu said. "Successful completion of this extremely complex project is quite an accomplishment for the student team. They have shown their dedication to making significant contributions in the robotics and autonomous systems field."
"The results of this project show what is possible when business and education come together. This has been a phenomenal opportunity to work closely with local students, and we hope to continue partnering with universities to develop technology to solve real world problems," said Richard Moore, Cisco's Senior Manager overseeing this project.
C15 will commence trials on May 8 at the 11:30 a.m. "birthday" celebration at building 7 of Cisco's RTP campus and the media is invited to attend. UNC Asheville students and faculty will also hold seminars about the technology and troubleshooting tips.
To reserve your plate of cake and robot demo, contact Jordan Hart-White, jordhart@cisco.com or Richard Moore, richarmo@cisco.com. The guest of honor will take care of the plates.