June 22, 2022
Last week, some of the country's preeminent global thought leaders converged over three days in Western North Carolina for the inaugural Asheville Ideas Fest. Hosted by the University of North Carolina Asheville, the Asheville Ideas Fest is rooted in a belief that seeing the world's significant challenges from new perspectives can improve our world.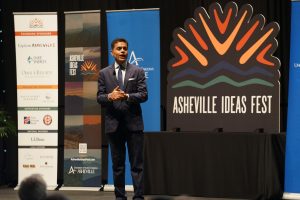 Throughout the Asheville Ideas Fest that took place from June 14-18, 2022, more than 400 guests experienced engaging panel discussions and thought-provoking keynote speakers in an exploration of topics consequential to the current landscape. Among the prominent speakers were Fareed Zakaria, host of Fareed Zakaria GPS for CNN Worldwide and a bestselling author; Bill McKibben, environmentalist author and founder of 350.org and thirdact.org; Jon Meacham, presidential historian and Pulitzer Prize-winning author; Dr. Kizzmekia S. Corbett, Ph.D., assistant professor in the department of immunology and infectious diseases at the Harvard T.H. Chan School of Public Health; Jason Mott, bestselling author and National Book Award Winner, Christine Todd Whitman, former NJ Governor and EPA Chair;  and many others.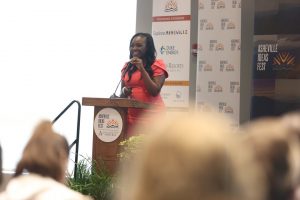 Health and wellness experiences offered each morning invited guests to actively engage with Asheville's natural beauty, and concerts featuring prominent local musicians capped each evening. The success of this first-year event solidifies UNC Asheville's intention for Asheville Ideas Fest to become a community tradition for years to come.
"The greatest success of Asheville Ideas Fest was bringing curious, engaged and open-minded people from across the nation and North Carolina," said UNC Asheville Chancellor Nancy J. Cable. "Our guests came together and created a culture of collective engagement through civil dialogue around varied perspectives that yielded a deepened understanding through connection and mutual respect."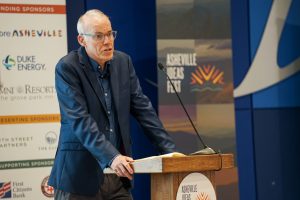 The culmination of the 2022 Asheville Ideas Fest reinforced that "all of us have the capacity to imagine creative solutions to the problems of the day," as explained by Dr. Rita Charon, Professor of Medicine at Columbia University and Inventor of Narrative Medicine, who spoke on a prestigious panel of Medical and Public Health experts as part of the William L. Roper Annual Lecture in Medicine & Public Health. 
UNC Asheville, with vital support from partners and corporate sponsors including Explore Asheville, Duke Energy, Omni Resorts The Grove Park Inn, South Street Partners, The Cliff, First Citizens Bank, Highland Brewing, and L.L. Bean, has showcased the city of Asheville as an ideal backdrop for a festival seeking to stimulate the intellectual curiosity of attendees and encourage conversation on hot topics facing society today. Asheville Ideas Fest looks forward to returning in 2023.
For more information about the inaugural Asheville Ideas Fest, please visit www.ashevilleideasfest.com.