March 22, 2019
More than 1,000 scholars gathered on UNC Asheville's campus on March 14-17, 2019, for four days of workshops, film screenings, readings, musical and dance performances, and more during the 42nd annual Appalachian Studies Conference. The conference focused in on the theme of "AppalachA'ville," and explored what it means to be vibrant 21st century city in the traditionally rural region of Appalachia.
"This conference offers us an opportunity to remain and commit to place-based scholarship and artistic endeavors, and I think that really matters," Interim Provost Karin Peterson said in her address to the conference attendees. "Whether you focus on history, culture, nature, food, labor, people, it is clear that this conference is so vibrant…. Here, Appalachia and its stories, its features, its diversities are highlighted and celebrated, and you have made that happen."
Along with panels, discussions and workshops you'd expect to find at an academic conference, unique highlights of "AppalachA'ville" included a screening of the award-winning documentary hillbilly; an Innovation Expo featuring a selection of area organizations and businesses that illustrate how people come together to identify needs, solve problems, build community, and strengthen the local economy; an Affrilachia y el Caribe poetry reading; a storytelling performance by actress Barbara Bates Smith and accompanist Jeff Seben; and an old-time square dance. Even the awards banquet featured an old-time string band performance, traditional ballad singers, and fleet-footed cloggers.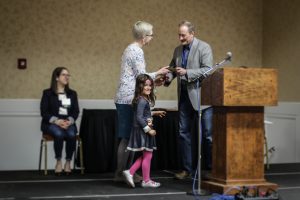 Among those celebrated at the awards banquet was UNC Asheville professor of English Erica Abrams Locklear, who received the Stephen L. Fisher Award for Excellence in Teaching. "I want to thank the Appalachian Studies Association, an organization that has been so crucial to my career, and I also want to thank UNC Asheville, a university that semester after semester provides me with the opportunity to teach about the region and people I love most," said Abrams Locklear, who was accompanied to the podium by her young daughter, Faith.
The conference keynote on Saturday, March 16, sponsored by the North Carolina Humanities Council, featured three celebrated Appalachian authors in conversation: UNC Asheville Writer-in-Residence and New York Times bestselling novelist Wiley Cash moderated a discussion with Lee Smith—well-known story teller and author of 18 books — and Ron Rash, the Parris Distinguished Professor in Appalachian Cultural Studies at Western Carolina University and author of 22 books.
The three authors discussed their journeys to becoming writers, teaching, the importance of seeing Appalachia represented in literature, and much more.
"I was a dismal failure at Hollins College my freshman year," Smith said, "because I kept thinking that to be a real writer, I had to smoke a lot of cigarettes and have a black cape, which I did, and some boots, which I did, and I even had a guitar case—there was no guitar in it—that I liked to carry around campus. And this was my idea about how to become a writer."
It was a campus reading by Eudora Welty, a Pulitzer Prize-winning Southern author, that changed her ideas about what it meant to be a writer, and showed her that literature could be written about places like the one where she grew up.
"All of a sudden it occurred to me that maybe I could write stories just about home, that maybe I didn't have to have a cape, that
maybe I didn't have to live in Paris in a garret—what was a garret? —and that I would just start writing some stories about people and things that I knew from home."
Cash, a UNC Asheville alumnus who now teaches fiction writing at his alma mater, discussed one of his own students who didn't think his own stories were worth telling. "A couple of semesters ago I had this student, and I always ask them on the first day, where are you from. He said, 'I'm from Pilot Mountain, I'm just some redneck, you can tell by my accent, not real bright,' he was just really down on himself. 'I got no stories, I got nothing to write about, I don't know why I'm in this class.'"
Cash invited local novelist David Joy to speak to the class, allowing his student to see a successful writer sharing stories not unlike his own. "You could see the student sitting up straighter, and hearing his own story in David's story, and knowing, 'David's got books, so maybe what I'm doing is worth something too,' and that's amazing how it can speak to a student," Cash said.
"For me personally, that's why I don't want to ever lose my accent," Rash said, noting the importance of taking pride in where you're from. "Because that to me is a rejection of your heritage. The way I look at it is, ok, you can make fun of my accent, but we can out-write you, we can out-music you, and we can out-cook you."