November 13, 2018
Designing a set for a theater production always presents challenges. How will the set pieces help tell the story that the actors are performing? Does the theme of the play demand a minimalist set, or an ornate one? How do you keep 500 square feet of sod and grass alive inside a windowless dark theater?
That's been the challenge for senior drama major Ryan Miller, who has taken on the role of set designer for the senior class' production of Metamorphoses, written by Mary Zimmerman and based on the poems of Ovid.
"Our department really is pulling out all the stops for this production," Miller said. "We have real grass, we have a 17-foot-tall swing, we have a complex series of steps that I actually took inspiration from Zeis Hall for, and 12-foot-tall Greek columns. And we still have one or two surprises up our sleeve–we hope audiences will give glowing reviews."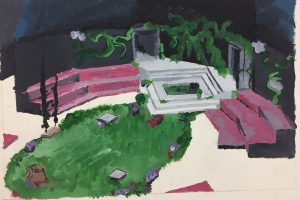 And it all had to be completed in six weeks.
One of the biggest challenges, Miller said, is keeping that real grass green and thriving for opening night.
"I have lost sleep over how we're going to keep the grass alive," Miller said. "It requires intense maintenance: watering three times a day, keeping lights on it for at least six hours a day, and, fun fact, spraying it with Dawn dish soap! Dawn contains chlorophyll, which helps keep it looking green."
Changing the inside of Belk Theatre into a beautiful, green, living meadow has taken tireless work from the entire crew, Miller said. "I may have designed it, but what the audience sees on stage was built and created by many people who devoted so much time to making this show look beautiful," he said. "They are absolute rock stars."
The transformation of the stage fits right into the theme of the play as well, Miller said.
"The main theme of Metamorphoses is how things change, and how things can be made beautiful through love," Miller said. "The idea of nature overgrowing a set of ancient Greek ruins reinforces that theme, I believe. Nature is always changing, but it's always beautiful in its own way."
You can see how Miller and the crew have made Belk Theatre "beautiful through love" at four performances, Nov. 15-17 at 7:30 p.m. and Nov. 18 at 2:30 p.m. Ticket prices and details can be found at https://drama.unca.edu/theatre-unca.