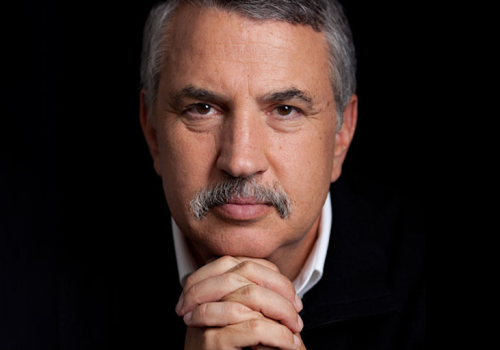 The Big Trends Shaping the World Today; Asheville Ideas Fest Keynote with Thomas L. Friedman
Event Navigation
Bestselling author Thomas L. Friedman will deliver the Asheville Ideas Fest keynote address, "The Big Trends Shaping the World Today," at 6 p.m. on Friday, June 16 at UNC Asheville's Kimmel Arena. Registration is free but required.
Thomas Friedman is the bestselling author of The World is Flat and New York Times foreign affairs columnist. He is renowned for his direct reporting and accessible analysis of complex issues shaping the world. According to Foreign Policy magazine, "Friedman doesn't just report on events; he helps shape them." The winner of three Pulitzer Prizes, he has covered monumental stories from around the globe for The New York Times since 1981. With clear and compelling language, Friedman discusses the opportunities and challenges that "accelerations," including technology and connectivity, present. He also explores solutions — on a local and global level — to ensure the future of work, skills, income, and prosperity.
He has written seven books since 1989 that have sold 10 million copies in 40 different languages. They include From Beirut to Jerusalem, The Lexus and the Olive Tree, The World is Flat and, most recently, his latest bestseller, Thank You for Being Late: An Optimist's Guide to Thriving in the Age of Accelerations, in which Friedman offers a blueprint for overcoming the stresses and challenges of a world being transformed by technology, globalization, and climate change.
Ranked #2 on The Wall Street Journal's list of "influential business thinkers," named one of 2011's Thinkers50, and featured in Foreign Policy's Top Global Thinkers in 2013, Friedman is considered one of "America's Best Leaders" by US News & World Report. He is a frequent guest on programs such as Meet the Press, and Morning Joe. And his TV documentaries, "Searching for the Roots of 9/11"; "The Other Side of Outsourcing", and "Addicted to Oil", have aired on the Discovery Channel. Friedman was featured in Showtime's climate change documentary series Years of Living Dangerously, executive produced by James Cameron and Arnold Schwarzenegger.
The second annual
Asheville Ideas Fest
will take place June 13-17, 2023. The program includes a phenomenal lineup of speakers and a laser focus on generating civil discourse on topics that matter.
---
Accessibility
UNC Asheville is committed to providing universal access to all of our events. If you have any questions about access or to request reasonable accommodations that will facilitate your full participation in this event, please contact the Event Organizer (see below). Advance notice is necessary to arrange for accessibility needs.
Visitor Parking
Visitors may park in faculty/staff and All Permit lots from 5 p.m. until 7:30 a.m., Monday through Friday, and on weekends, holidays, and campus breaks. Visitors are not permitted to park in resident student lots at any time.
Prior to 5 p.m., any visitor (regardless of their reason for visit) need to adhere to the current practices listed on the parking website. Get your visitor parking permit here