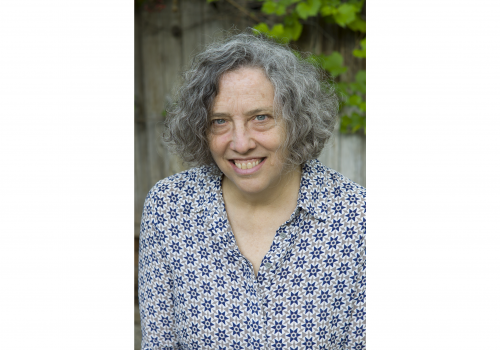 Jacqueline Osherow
Poetry Reading by Jacqueline Osherow
September 3, 2019 @ 7:00 pm

-

8:30 pm
Event Navigation
Jacqueline Osherow, author of eight collections of poetry, will read from her works at 7 p.m. on Tuesday, Sept. 3, in UNC Asheville's Karpen Hall, Laurel Forum, in the first event of the fall semester presented by the university's Center for Jewish Studies and its Department of Religious Studies. This event is free and open to everyone.
Osherow's poems have appeared in The New Yorker, The Paris Review, American Poetry Review and many other journals. Her most recent book, My Lookalike at the Krishna Temple, published in March by LSU Press, explores spirituality in cultures all over the world as well as her own relationship to Judaism and Jewish history. A distinguished professor of English at the University of Utah, she has been described in Publisher's Weekly as "a poet who offers opinions and reactions to the weightiest questions of history and religion, while sounding less like an authority than like a particularly well-traveled friend."
In an essay for the Poetry Society of America addressing the question of identity as it relates to her writing, Osherow began with an old Jewish joke: "'What's the difference between a garment worker and a poet?' The answer: 'a generation.' My family is slow; it took us two generations. But the joke nonetheless comes to mind when I try to think about what distinguishes American poetry; above all, it is a poetry unabashedly close to its, as it were, garment-worker heritage, a poetry very well aware of its non-poetic and non-American immediate past. If our poetic tradition is a short one, it also is an energetic, daring and all-inclusive one. And what poet wouldn't want to be a part of that?"
Osherow's standing as an American poet has been affirmed by several prizes from the Poetry Society of America, the Witter Bynner Prize from the American Academy and Institute of Arts and Letters, and fellowships from the John Simon Guggenheim Foundation, National Endowment for the Arts, and the Ingram Merrill Foundation. Her work as been anthologized in Best American Poetry, and in Jewish American Literature: A Norton Anthology. "If I write out of a specific poetic tradition, it is the Jewish poetic tradition, American poet though I am," says Osherow.
For more information, contact the Center for Jewish Studies at 828.232.5027.