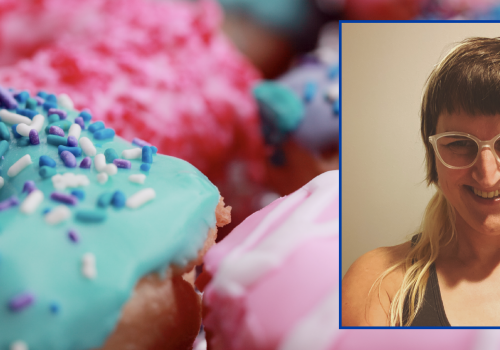 Parson's Lecture: Atari and the Multiverse of Doughnuts
October 27, 2022 @ 7:00 pm
Event Navigation
Autumn Kent, professor of mathematics at University of Wisconsin and UNC Asheville alumna, will present this year's Parsons Lecture, "Atari and the Multiverse of Doughnuts," at 7 p.m. on Thursday, Oct. 27 in Lipinsky Auditorium.
In Atari's Asteroids, you fly a spaceship that destroys asteroids with a ray gun. When you fly off the top of your TV, you reappear from the bottom. When you fly off the right, you reappear from the left. The top of TV is "glued'" to the bottom, making a cylinder, and the left end of the cylinder is "glued" to the right end, making a doughnut. The Asteroids universe is a doughnut. TVs used to have 4:3 aspect ratios, and now they're usually 16:9. We can play Asteroids on both. Both universes are doughnuts, but they're different shapes. If we took the ship captain out of her universe, and marooned her in a new one, would she be able to tell? Could different TVs give her the same universe? Are there directions she can fly that take her to every point in her universe? These are basic versions of questions that mathematicians study: What are the possible shapes of a given object? Can we tell two objects apart by studying their geometry from within, as in our marooned captain's dilemma? We'll go on a trip through this multiverse of doughnuts, and see what we find.
Autumn Kent grew up in Goldsboro, North Carolina, the daughter of an artist and a fighter pilot. She graduated from UNC Asheville in 1999, with a BA in Literature and Mathematics, and taught briefly at A-B Tech before going to graduate school at the University of Texas at Austin. In her spare time, she enjoys cooking, reading, and playing video games with her children.
About the Parsons Lecture
In 1998 a Mathematics alumnus from UNC Asheville provided an endowment, in honor of Joe Parsons, to fund this annual lecture series. The goal of the Parsons Lecture is to provide the UNC Asheville community with the ability to attend locally a presentation by a nationally renowned mathematician speaking on a topic accessible to the general audience. Speakers for the lecture series are invited to present a lecture not just because of their renown as mathematicians, but also for their skills as educators and orators. The endowment is used to fund travel and other expenses incurred by the speaker and department.
---
Accessibility
UNC Asheville is committed to providing universal access to all of our events. If you have any questions about access or to request reasonable accommodations that will facilitate your full participation in this event, please contact the Event Organizer (see below). Advance notice is necessary to arrange for accessibility needs.
Visitor Parking
Visitors may park in faculty/staff and non-resident All Permit lots from 5:00 p.m. until 7:30 a.m., Monday through Friday, and on weekends, holidays, and campus breaks. Visitors are not permitted to park in resident student lots at any time.
Prior to 5pm, any visitor (regardless of their reason for visit) need to adhere to the current practices listed on the parking website. Get your visitor parking permit here