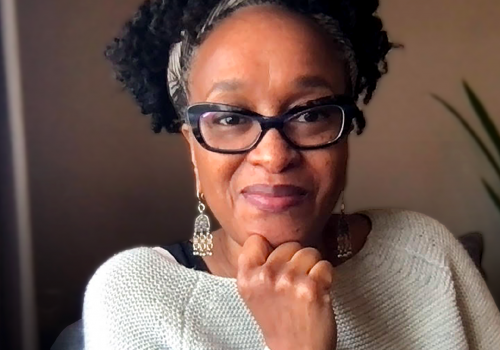 Mullens and Jameses Honor Lecture Featuring Dr. Rachel Elizabeth Harding presenting "Family, Fugitivity and the Black Freedom Movement: Reflections on the Life and Work of Vincent and Rosemarie Freeney Harding"
October 12, 2021 @ 7:00 pm

-

8:30 pm
Event Navigation
In recognition of the significant contributions of Professor Emeriti Dolly Jenkins-Mullen, Dwight Mullen, Charles James and Deborah (Dee) Grier-James, the Departments of Political Science, English, and Chemistry as well as by the Women, Gender, Human Sexuality Studies; Africana Studies; U.S. Ethnic Studies; and Humanities Programs, are proud to present a talk from Rachel Elizabeth Harding in recognition of UNC Asheville's Mullens & Jameses Honor Lecture.
The 2021 event welcomes Rachel Elizabeth Harding, associate professor of Indigenous Spiritual Traditions in the Department of Ethnic Studies at the University of Colorado Denver. Harding will lead a talk on the life and work of her parents, Vincent and Rosemarie Harding.
Vincent and Rosemarie Harding were among a generation of African American scholar-activists who understood their tasks as educators to be intimately tied to a commitment to the liberation of Black people and the transformation of U.S. society toward a more just, equitable, and compassionate multiracial democracy. This lecture, led by the Hardings' daughter, explores the spiritual and political foundations of her parents' activist and educational work, including reflections on their unconventional commitments' impact on her own life choices.
Political scientists Dolly Jenkins-Mullen and Dwight Mullen, Chemistry Professor Charles James and English Professor Deborah (Dee) Grier-James served as UNC Asheville faculty from 1984 to 2018. They were among the university's first African-American faculty members, recruited as part of an effort to diversify the faculty. In 2018, UNC Asheville designated the Humanities Lecture Hall as the Mullen & James Humanities Hall in their honor. Read more about the Mullens and Jameses and their accomplishments HERE
About Rachel Elizabeth Harding
Georgia native Rachel Elizabeth Harding is a writer, historian, poet and specialist in religions of the Afro-Atlantic diaspora with an interest in the relationship between religion, creativity and s­ocial justice activism in cross-cultural perspective. A Cave Canem Fellow, she holds an MFA in creative writing from Brown University and a PhD in history from the University of Colorado Boulder. Harding is author of A Refuge in Thunder: Candomblé and Alternative Spaces of Blackness (Indiana University Press, 2000) as well as numerous poems and essays. Her second book, Remnants: A Memoir of Spirit, Activism and Mothering (Duke University Press, 2015) combines her writings with those of her mother, Rosemarie Freeney Harding, on the role of compassion and spirituality in African American social justice organizing. Harding is chairperson of the coordinating committee for the African Diaspora Religions Group of the American Academy of Religion and is a member of the editorial boards of Saberes em Perspectiva (Brazil) and the Journal of Africana Religions. She regularly organizes study-tours to Brazil with an emphasis on Afro-Brazilian history, culture and ritual practice.
The event is co-sponsored by the Departments of Political Science, English, and Chemistry as well as by the Women, Gender, Human Sexuality Studies, Africana Studies, U.S. Ethnic Studies, Religious Studies, and Humanities Programs.
This lecture is made possible by the Belk Distinguished Professorship in the Humanities.
Community Expectations
As members of this community, we care about everyone. Faculty, staff, students, and visitors have a shared commitment to take the necessary precautions to avoid spreading COVID-19 while following all recommended health guidelines. Please see UNC Asheville's Community Expectations. Masks are required of all students, faculty, staff, and visitors.
---
Visitor Parking
Visitors must have a permit to park on campus — please visit the Transportation website to register.