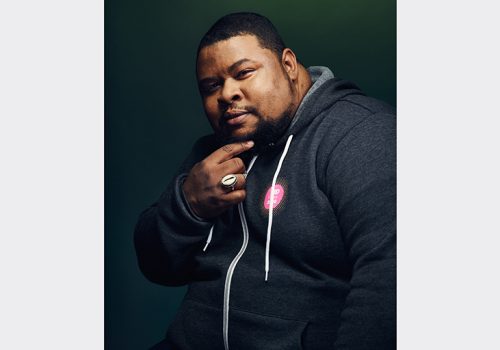 Michael Twitty Greenfest Keynote Lecture – Culinary Justice: Defining a Theory of Gastronomic Sovereignty
September 6, 2018 @ 7:00 pm

-

8:30 pm
Event Navigation
Michael Twitty, culinary historian, Judaic studies teacher and creator of the blog Afroculinaria, will deliver UNC Asheville's Fall 2018 Greenfest Keynote Lecture, 7 p.m. on Thursday, Sept. 6 in Lipinsky Auditorium. His talk, Culinary Justice: Defining a Theory of Gastronomic Sovereignty, is free and open to everyone.
The public also is invited to arrive early for the second annual Community Seed Swap, which will take place in the Lipinsky Hall lobby from 5-6:30 p.m., and to enjoy vegetarian soul food from local chef Gene Ettison that will be available for sale outside of Lipinsky Hall.
"Michael Twitty pulls together so many threads to make sense of how we think and feel about the foods we eat, particularly in the South," says Sonia Marcus, UNC Asheville's director of sustainability. "Faculty members teaching everything from Appalachian literature, to sociology, to the globalization of taste, have expressed interest in Twitty. His willingness to discuss the complicated nature of his intersecting identities – as an African-American, as a chef, as a Jew, as a gay man – is also a draw for our campus community which also is increasingly diverse and intersectional, and where Food Systems and Culture is a formal academic program."
Twitty also is the guest host of UNC Asheville's annual Farm-to-Table Dinner on the Quad with the theme of One Southern Family, a now sold-out event led by the university's Office of Sustainability on the opening night of Greenfest, Sept. 4.
His 2017 book, The Cooking Gene, was recently honored with two James Beard Foundation awards – for writing and for book of the year. In The Cooking Gene, Twitty wrote: "​I dare to believe that all Southerners are a family. We are not merely Native, European, and African. We are Middle Eastern and South Asian and East Asian and Latin American, now. We are a dysfunctional family, but we are a family. We are unwitting inheritors of a story with many sins that bears the fruit of the possibility of ten times the redemption. One way is through reconnection with the culinary culture of the enslaved, our common ancestors, and restoring their names on the roots of the Southern tree and the table those roots support."
The Fall 2018 Greenfest Keynote Lecture is sponsored by many UNC Asheville programs and offices and by A-B Tech Community College, Asheville Jewish Community Center, Biltmore Farms Hotels, Buchi, Joyce Farms, Mountain Food Products, Our State magazine, Sow True Seed and Spriggly's Beescaping.
Fall 2018 Greenfest at UNC Asheville continues through Sept. 12 with many environmentally themed activities. For more information, contact Marcus: smarcus@unca.edu or 828.251.6177.