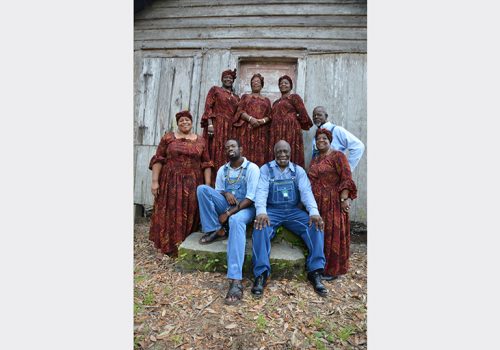 McIntosh County Shouters, photo by Dan Sheehy, Smithsonian Institution
McIntosh County Shouters in Concert
November 15, 2018 @ 7:00 pm

-

8:30 pm
Event Navigation
The McIntosh County Shouters will bring the "ring shout" – one of the oldest surviving African-American performance traditions in North America – to UNC Asheville for a rousing evening concert, and an afternoon master class.
The ring shout – a fusion of dance, call-and-response-singing, and percussion with hand-clapping and sticks, is African in origin and was first described in detail by outside observers during the Civil War in the coastal regions of South Carolina and Georgia. The ring shout tradition was thought to have died out in second half of the 20th century, but in fact lived on in the small low country community of Bolden in McIntosh County, Georgia.
When the tradition became known to outsiders in 1980, the people of Bolden organized the performance group, the McIntosh County Shouters – to present authentic recreations of their community tradition that had been passed down from their enslaved forbearers.
The McIntosh County Shouters performed in Washington, D.C. at the opening festival for the Smithsonian National Museum of African American History and Culture, and at the John F. Kennedy Center and the Library of Congress. They also have received the prestigious National Heritage Fellowship from the National Endowment for the Arts, and a Governor's Award in the Humanities in Georgia.
The concert takes place at 7 p.m. on Thursday, Nov. 15, in UNC Asheville's Lipinsky Auditorium. Tickets, available online or at the door, are $15 general admission; free for UNC Asheville students with OneCard; $5 for all other students and for UNC Asheville employees; $10 for OLLI members and UNC Asheville alumni. CLICK FOR TICKETS
The master class is free and open to everyone, and will take place from 11:30 a.m.-12:30 p.m. on Thursday, Nov. 15 in Lipinsky Auditorium.
Support for the UNC Asheville appearance of the McIntosh County Shouters comes from Biltmore Farms Hotels, and BPR (Blue Ridge Public Radio), Our State magazine.