Downtown Asheville scene, part of the Isaiah Rice Collection
Isaiah Rice Historical Photo Exhibition
May 24, 2019

-

August 24, 2019
Event Navigation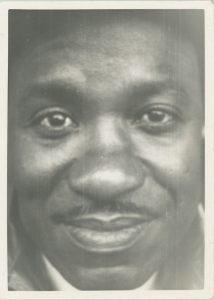 The Isaiah Rice Photo Collection, which provides a window into Asheville's African American history through vivid images of life in the city's black community from the 1950s through the 1970s, will be on view May 24-Aug. 24 at the new Eagle Market Place Community Exhibition Space, 19 Eagle Street, Asheville. An opening reception will be held at the exhibition space from 5:30-8 p.m. on Friday, May 24. The reception and exhibit are free and open to everyone.
The opening reception will be hosted by UNC Asheville's Office of Community Engagement and its Executive Director Darin Waters. Waters, also an associate professor of history at the university, is the grandson of photographer Isaiah Rice, and his family has donated the complete collection of photos to the university's  Ramsey Library so they may be preserved and made available to the public.
The exhibition at the Eagle Market Place Community Exhibition Space will feature large reproductions of more than 40 photos; to view the complete collection, visit Ramsey Library on campus. For more background on the exhibition and its significance, see this article in North Carolina Libraries, and In-Between the Color Lines with a Spy Camera, a piece in Southern Cultures authored by Waters, UNC Asheville Archivist Gene Hyde, and Professor of Political Science Kenneth Betsalel.
The Eagle Market Place Community Exhibition Space is part of the new apartment and retail development at Eagle and Market Streets, once the hub of Asheville's African American commercial and social life. The project is a partnership between the nonprofit group, Mountain Housing Opportunities, and Eagle Market Streets Development Corporation.
---
Accessibility
Visitor Parking