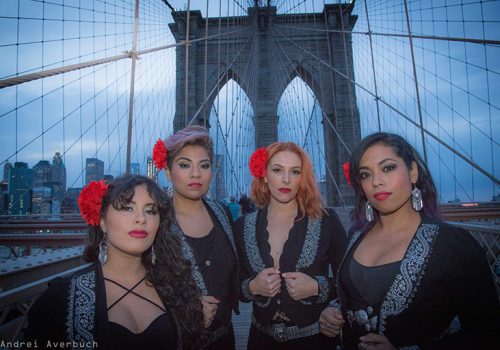 Flor de Toloache
Flor de Toloache in Concert
September 18, 2019 @ 7:00 pm

-

9:00 pm
Event Navigation
Flor de Toloache – the New York City-based all-female quartet whose latest album features John Legend – will bring their boundary-breaking update on mariachi music to UNC Asheville for a 7 p.m. concert at Lipinsky Auditorium on Wednesday, Sept. 18. This concert is free with no tickets required.
The band's name comes from the toloache flower, used as in ancient times and still today as a love potion in Mexico. And NPR describes the group's sounds as sometimes "intimately airy," but also "ice-crackingly powerful." Flor de Toloache's music features "intricate vocal runs and harmonic alchemy … with equally clever instrumental arrangements by the singers themselves," according to NPR's review of the group's album Indestructible, just released at the end of May. Indestructible, which fuses mariachi with many other musical forms, follows the band's 2017 album Las Caras Lindas, which won a Latin Grammy Award for Best Ranchero/Mariachi Album.
A local youth dance troupe – RAICES, affiliated with the Buncombe County organization Nuestro Centro – will open the concert.
Flor de Toloache performs on traditional mariachi instruments, but their music incorporates influences beyond Mexico, reflecting the band members' diverse personal and musical backgrounds. Mireya Ramos, who was raised in Puerto Rico but has Mexican and Dominican heritage, plays violin as well as singing lead. Shae Fiol, also a lead vocalist, is a Cuban-American from Portland, Ore., who plays guitar and vihuela (a guitar-like instrument with five strings). Harmony vocals come from Eunice Aparicio, a native of Mexico who plays guitarrón (like an oversized acoustic bass guitar), and Julie Acosta, a Dominican from Miami, who cites both hip-hop and jazz influences on her trumpet style.
To learn more about Flor de Toloache and sample their music, visit their website, mariachinyc.com.
The concert is part of a two-day residency which will feature workshops and classes with students and the community:
Tuesday, Sept. 17 at noon in Karpen Hall, Laurel Forum.
Wednesday, Sept. 18 at 2 p.m. in the Highsmith Student Union, Mountain Suites.
Flor de Toloache's residency is part of UNC Asheville's Cultural Events Series, which receives support from Biltmore Farms Hotels, Blue Ridge Public Radio and Our State magazine.
Up next in UNC Asheville's Cultural Events Series
Oct. 22 – Rangi Matamua – Matamua, who lectures on Māori history, culture and star lore, is a professor and associate dean at The University of Waikato in New Zealand. His areas of expertise include Māori language development and revitalization, astronomy and traditional weaponry. He will present a free public lecture at 7 p.m. in the Highsmith Student Union Blue Ridge Room. No tickets needed.
For more information, call UNC Asheville's Highsmith Student Union at 828.251.6990.
Building accessibility information is available here.
Accessibility Contact: Highsmith Student Union, highsmithunion@unca.edu or 828.251.6990.
Visitor Parking on the UNC Asheville Campus – Visitors may park in faculty/staff and non-resident lots from 5:00 p.m. until 7:30 a.m., Monday through Friday, and on weekends, holidays, and campus breaks. Visitors are not permitted to park in resident student lots at any time.