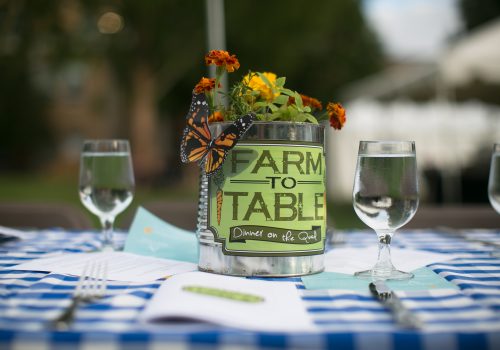 Farm-to-Table Dinner on the Quad – SOLD OUT!!
September 23, 2019 @ 5:30 pm

-

8:30 pm
Event Navigation
This event is now sold out!
UNC Asheville's fifth annual Farm-to-Table Dinner will be guest-hosted by Mko'Mosé (Andrew Judge), with the theme of Home Sweet Home, and a menu featuring wild and indigenous foods, complemented by our annual array of campus-grown produce and locally produced delicacies. The dinner takes place at 5:30 p.m. on Monday, Sept. 23 on the UNC Asheville Quad.

Presented by UNC Asheville's Office of Sustainability and the American Indian and Indigenous Studies Program, the Farm-to-Table Dinner is part of Fall Greenfest, the university's semi-annual celebration of environment and sustainability.
Tickets, available here, cost $28; children under 12, free. More info is available at the Office of Sustainability website. Student meal-swipe tickets are now sold out.
The event organizers provide this description:
Mko'Mosé is a professor and coordinator of Indigenous Studies at Conestoga College Institute of Technology and Advanced Learning in Ontario, Canada. He specializes in traditional indigenous knowledge and works with Elders across North America to support "the conscious awakening of his students and himself." Judge is an initiated Mayan day-count keeper and regularly participates in the ancient ceremonial practices of his Anishinaabe ancestors.
He is currently developing programming in Indigenous land-based practices and invites his students to work with traditional medicines and foods to learn the ways of the ancestors. In the summer of 2018, he founded Minjimendan ("In a state of remembering") an indigenous foods garden dedicated to helping the community remember their role in restoring the vitality of the Earth. The spiraling terraced garden aims to inspire a revitalization of indigenous foods systems and land based sustainability practices. In Mko'Mosé's words, "The spiral is the basis for all life on Earth, and it's found in almost every natural growing thing on the planet. What it comes down to is the spinning of the Earth around the sun, and the sun going around the galaxy."
Our theme for the 2019 dinner and Fall Greenfest as a whole will be HOME SWEET HOME. How do we come to understand what "home" is to each of us? Who belongs and who doesn't? What would it look it to re-inhabit the places we live in ways that connect us to each other, this land, and the living world that surrounds and includes us?

"To be native to a place we must learn to speak its language… I'm not advocating that we all learn Potawatomi or Hopi or Seminole, even if we could. Immigrants came to these shores bearing a legacy of languages, all to be cherished. But to become native to this place, if we are to survive here, and our neighbors too, our work is to learn to speak the grammar of animacy, so that we might truly be at home."

– Robin Wall Kimmerer, Braiding Sweetgrass
Mko'Mosé will also deliver the Fall Greenfest Keynote Lecture on campus at 7 p.m. on Tuesday, September 24th, in the Highsmith Student Union Blue Ridge Room, free and open to everyone.
Building accessibility information is available here.
Accessibility Contact: Highsmith Student Union, highsmithunion@unca.edu or 828.251.6990.
Visitor Parking on the UNC Asheville Campus – Visitors may park in faculty/staff and non-resident lots from 5:00 p.m. until 7:30 a.m., Monday through Friday, and on weekends, holidays, and campus breaks. Visitors are not permitted to park in resident student lots at any time.  
---
Accessibility
Visitor Parking