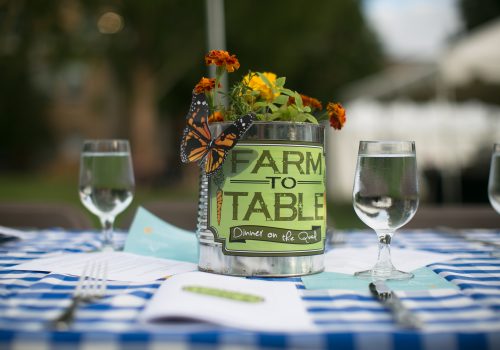 Farm-to-Table Dinner on the Quad
September 4, 2018 @ 5:30 pm

-

8:30 pm

$10 – $28
Event Navigation
This fourth annual Farm-to-Table Dinner on the Quad will be guest-hosted by Michael Twitty, with the theme One Southern Family. The dinner takes place at 5:30 p.m. on Tuesday evening, Sept. 4. Twitty will also give a free public lecture at 7 p.m. on Thursday, Sept. 6, in Lipinsky Auditorium. The Farm-to-Table Dinner is one of the highlights of UNC Asheville's Fall Greenfest 2018, Sept. 4-12.
Tickets are now available at the Farm-to-Table Dinner webpage. Tickets are $28; $10 (or two meal swipes) for students; no charge for children age 12 and younger.
There will be delicious options available to suit all dietary preferences and needs, including gluten-free, vegan and vegetarian.
Michael Twitty is a culinary historian, living history interpreter, and Judaics teacher from the Washington D.C. area. He is the creator of Afroculinaria, the first blog devoted to African American historic foodways and their legacy. Twitty's 2017 book, The Cooking Gene, was recently honored with two James Beard Foundation awards for writing and for book of the year.
​I dare to believe that all Southerners are a family. We are not merely Native, European, and African. We are Middle Eastern and South Asian and East Asian and Latin American, now. We are a dysfunctional family, but we are a family. We are unwitting inheritors of a story with many sins that bears the fruit of the possibility of ten times the redemption. One way is through reconnection with the culinary culture of the enslaved, our common ancestors, and restoring their names on the roots of the Southern tree and the table those roots support."
– Michael Twitty, The Cooking Gene
The intention behind this annual event is three-fold: To create a fall harvest ritual around food and farming on campus; To recognize and celebrate the efforts of our student gardeners, faculty and staff partners, and community collaborators, all of whom are working to manifest UNC Asheville's sustainability values through our landscapes, our co-curricular programs, and our academic initiatives; and, To advance and accelerate our work together in the years ahead.