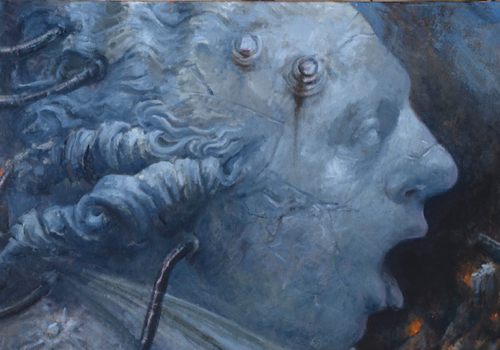 "Externalities," Lecture with Artist Nick Raynolds
Event Navigation
Local artist Nick Raynolds will discuss the work in his current exhibit, "Externalities," at 1 p.m. on Thursday, September 14, in UNC Asheville's Ramsey Library, Blowers Gallery.
"Externalities" showcases Raynolds' latest work in oil paintings, combining surrealism with elements of science fiction and fantasy. In his lecture, Raynolds will discuss the ideas and inspirations influencing his work.
"Externalities" will be on view in the Blowers Gallery through September 29.
---
Accessibility
UNC Asheville is committed to providing universal access to all of our events. If you have any questions about access or to request reasonable accommodations that will facilitate your full participation in this event, please contact the Event Organizer (see below). Advance notice is necessary to arrange for accessibility needs.
Visitor Parking
Visitors may park in faculty/staff and All Permit lots from 5:00 p.m. until 7:30 a.m., Monday through Friday, and on weekends, holidays, and campus breaks. Visitors are not permitted to park in resident student lots at any time.
Prior to 5pm, any visitor (regardless of their reason for visit) need to adhere to the current practices listed on the parking website. Get your visitor parking permit here