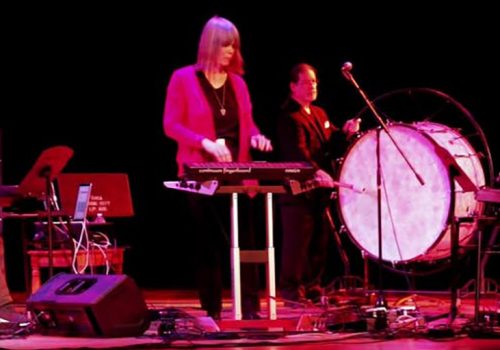 ContinuuCon Electronic Music Conference and June 1 Concert
May 30, 2019

-

June 1, 2019
Event Navigation
ContinuuCon 2019, the fourth annual international Haken Continuum conference, will place at UNC Asheville from May 30 through June 1. The participating electronic musicians will perform in a concert, free and open to everyone at 7:30 p.m. on Saturday, June 1 in Lipinsky Auditorium on campus. Multi-instrumentalists Rob Schwimmer, Sally Sparks, and UNC Asheville Padisson Distinguished Professor Wayne Kirby will be among the performers.
More on ContinuuCon 2019 from the organizers:
Two full days of presentations and workshops are scheduled. Guest speakers will include Roger Linn, who designed the first digital drum machine (the LM-1 Drum Computer), the Akai MPC60 music production controller, the AdrenaLinn multi-effects processor, and the LinnStrument multidimensional performance controller; John Worthington, who designed the Jambé electronic percussion instrument and led the team that developed Apple QuickTime; and Moog Music's Geert Bevin, Belgian programming wizard and co-developer of numerous multidimensional touch instruments. As usual, presentations by University of Illinois Professor Lippold Haken and Canadian composer Edmund Eagan, who co-developed the Continuum Fingerboard, the ContinuuMini, and their onboard sound engine the EaganMatrix, will be among the most popular.
Tickets, complete schedule details, videos, and more information are available on the web at ContinuuCon.com. ContinuuMini owners and others who can't attend a whole day or the entire conference may purchase half-day tickets for the afternoon of June 1.
About the Haken Continuum:
Manufactured by Haken Audio, the Continuum Fingerboard and ContinuuMini are groundbreaking electronic musical instruments offering unprecedented real-time expressivity and continuous multidimensional performance control. Inside both instruments is the EaganMatrix, a cutting-edge, user-programmable, digital modular synthesizer taking full advantage of the playing surface's subtle to dramatic performance capabilities.