Black History 101 Mobile Museum with Khalid el-Hakim
October 23, 2019 @ 9:00 am

-

4:00 pm
Event Navigation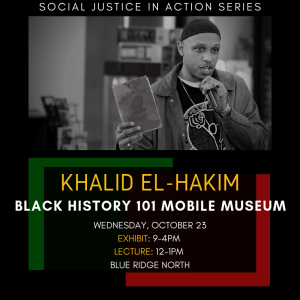 This traveling tabletop exhibition, curated by Khalid el-Hakim, has more than 5,000 items spanning from slavery to hip hop. It will be on view from 9 a.m.-4 p.m. on Wednesday, Oct. 23, in the
Highsmith Student Union Blue Ridge Room, free and open to everyone. El-Hakim will also give a free public lecture at noon in the exhibition location.
This event is presented by UNC Asheville's Office of Multicultural Affairs, and also is part of UNC Asheville's commemoration of the 400th anniversary of the arrival of the first enslaved Africans in what is now the United States. The commemoration, a series of educational and cultural events beginning Oct. 20, culminates in a keynote address on Oct. 24 by Molefi Kete Asante, a leading philosopher and scholar of African American studies. Asante, chair and professor of Africology and African American Studies at Temple University, will deliver his keynote address, free and open to everyone, at 6 p.m. on Thursday, Oct. 24 in Lipinsky Auditorium.
Here is the full schedule of events at UNC Asheville commemorating the 400th anniversary year of the arrival of the first enslaved Africans to the Jamestown settlement in what was then colonial Virginia: 
Sunday, October 20
Concert: Aesthetics of the Afro-Americas – Student, faculty and community musicians will perform djembe drumming, Afro-Brazilian music, blues piano, choir spirituals and funk. 5:30 p.m., Lipinsky Hall Lobby. 
Monday, October 21
Lunch 'n Learn, The Cape Coast Castle Dungeons: The Darker Side of Modernity – UNC Asheville Africana Studies Program faculty members Agya Boakye-Boaten and Jeremias Zunguze will make the case for Africa as an epicenter of European modernity. 11 a.m.-12:15 p.m., Zeis Hall, room 202.
Film screening: Sankofa – This 1993 drama directed by Ethiopian-born Haile Gerima and filmed in Burkina Faso, won the grand prize at the African Cinema Festival in Italy, and was described this way in Black Camera: "This rich film illustrates slavery from the view that many Blacks have been denied, their history. It explores the themes of loss of identity and racial consciousness; respecting and returning to our ancestral roots; and recognizing the connections that exist between people of African descent who live throughout the world." 7 p.m., Highsmith Student Union, The Grotto. 
Tuesday, October 22
Lunch 'n Learn with the UNC Asheville Afro Music and Dance Ensemble – This student/faculty/community ensemble is led by Mustapha Braimah, visiting assistant professor of dance; Jonathan King, assistant professor of music; and djembe master Adama Dembele. 11:45 a.m.-1 p.m., Highsmith Student Union, The Grotto. 
Wednesday, October 23
Black History 101 Mobile Museum, with Khalid el-Hakim – This traveling tabletop exhibition, curated by el-Hakim, has more than 5,000 items spanning from slavery to hip hop. On view from 9 a.m.-4 p.m., with a noon lecture by el-Hakim, Highsmith Student Union Blue Ridge Room.
The People Not Property Project and Black Resistance in Western North Carolina – UNC Greensboro Fellow for Digital Curation and Scholarship Brian Robinson will present. 4-5:30 p.m., Ramsey Library. 
Thursday, October 24
Keynote Speech by Molefi Kete Asante, with introductory performance by UNC Asheville's Afro Music and Dance Ensemble, featuring Mustapha Braimah. 6 p.m., Lipinsky Hall Auditorium.
For more information, contact UNC Asheville Associate Professor and Director of Africana Studies Tiece Ruffin at truffin@unca.edu.
Click here for building accessibility information.
Accessibility contact: Highsmith Student Union, highsmithunion@unca.edu or 828.251.6990.
Visitor Parking on the UNC Asheville Campus – Visitors may park in faculty/staff and non-resident lots from 5:00 p.m. until 7:30 a.m., Monday through Friday, and on weekends, holidays, and campus breaks. Visitors are not permitted to park in resident student lots at any time.
---
Accessibility
Visitor Parking