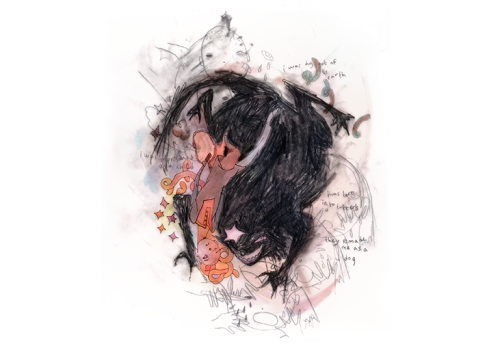 "Crimson Witch" by K. Theo Stultz
BFA Drawing Exhibition by K. Theo Stultz: "Dreaming Chain"
November 15, 2019

-

December 3, 2019
Event Navigation
Drawings by UNC Asheville BFA student K. Theo Stultz will be on view in a new exhibition, Dreaming Chain, opening with a reception from 6-8 p.m. on Friday, Nov. 15 in the Highsmith Student Union Gallery. The exhibition will remain on view through Dec. 3. Admission is free to the reception and the exhibition. Highsmith Student Union is open daily until midnight, and until 1 a.m. on Friday and Saturday nights.
In addition to studying at UNC Asheville, Stultz works as a freelance storyboard assistant for commercials and film, and does illustration and design work for film and television, which be seen in films including Bolden!, Avengers: Infinity War, and Jack Reacher: Never Go Back. More information about and drawings by Stultz are available online here.
Artist Statement
Dreaming Chain is a collection of short stories and vignettes in comic form. Each story follows different people and events in the same fictional world — The Chain. The book is a multimedia experiment in cartooning as an outlet to express my imaginary space. My intent is to communicate the character of The Chain through emotion and impression, rather than through exposition and direct worldbuilding. I want The Chain to be a space, not a setting.
Dreaming Chain is also me trying to capture my world in the most authentic way I can: as an ode to indulgence. Indulging in writing with pretend, indulging in my favorite medium, indulging in drawing however I want with whatever I want, depending on my mood today. The book is a record of the best time I've ever had making anything. It's an invitation to experience my favorite place as I do. Engage with it as story first, "body of work" second. I want you to have fun. If you create things, I want it to inspire you to indulge in your own labors of love. It's an invitation to play with us!
Building accessibility information is available here.
Accessibility Contact: Highsmith Student Union, highsmithunion@unca.edu or 828.251.6990.
Visitor Parking on the UNC Asheville Campus – Visitors may park in faculty/staff and non-resident lots from 5:00 p.m. until 7:30 a.m., Monday through Friday, and on weekends, holidays, and campus breaks. Visitors are not permitted to park in resident student lots at any time.