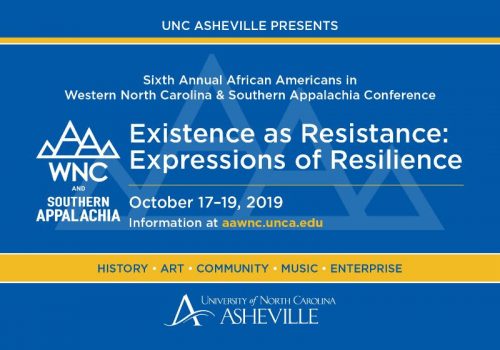 Annual African Americans in WNC and Southern Appalachia Conference
Event Navigation
The sixth annual African Americans in Western North Carolina and Southern Appalachia Conference returns to Asheville October 17-19, 2019, with the theme, "Existence as Resistance: Expressions of Resilience."
The planning committee for the 2019 conference are Darin Waters (UNC Asheville), Kimberlee Archie (City of Asheville), Cortina Caldwell (adé PROJECT), Tiffany Flunory De'Bellott (IRL), Kimberly Hunter (Mountain BizWorks), Jillean McCommons (University of Kentucky), Rasheeda McDaniels (Buncombe County), Reid Chapman (UNC Asheville), Gene Hyde (UNC Asheville), Deborah Miles (Deborah Miles Consulting), Sarah Judson (UNC Asheville), and Ami Worthen (Project Manager).
Please consider becoming a sponsor of the 2019 African Americans in Western North Carolina and Southern Appalachia Conference – click here to see more information.
Additional conference details will be posted when available. For more information, visit aawnc.unca.edu or call 828.255.7216.