The Manly E. Wright Award is the valedictory award presented to the graduate who ranks first in scholarship at the May commencement ceremony. The award honors the memory of an Asheville leader who served as a trustee and chairman of the board of Asheville-Biltmore College, a predecessor of UNC Asheville. The award was established in 1966 by Manly E. and Betty Wright. The prize that accompanies this award is provided through her estate. Per UNC Asheville's tradition, the Manley E. Wright Award winner receives their degree on a silver platter.
May 2019
A chemistry major and neuroscience minor, and member of the cross country and track and field teams, Blanton Gillespie graduated with a 3.996 GPA. He is a four-time Big South Scholar Athlete of the Year, and in 2018 he was awarded a Goldwater Scholarship, one of the most prestigious undergraduate scholarships in the natural sciences. He has published three papers in the Journal of Physical Chemistry, completed NASA fellowships, and plans to study medicine, then practice rural medicine in underserved Western North Carolina communities.
May 2018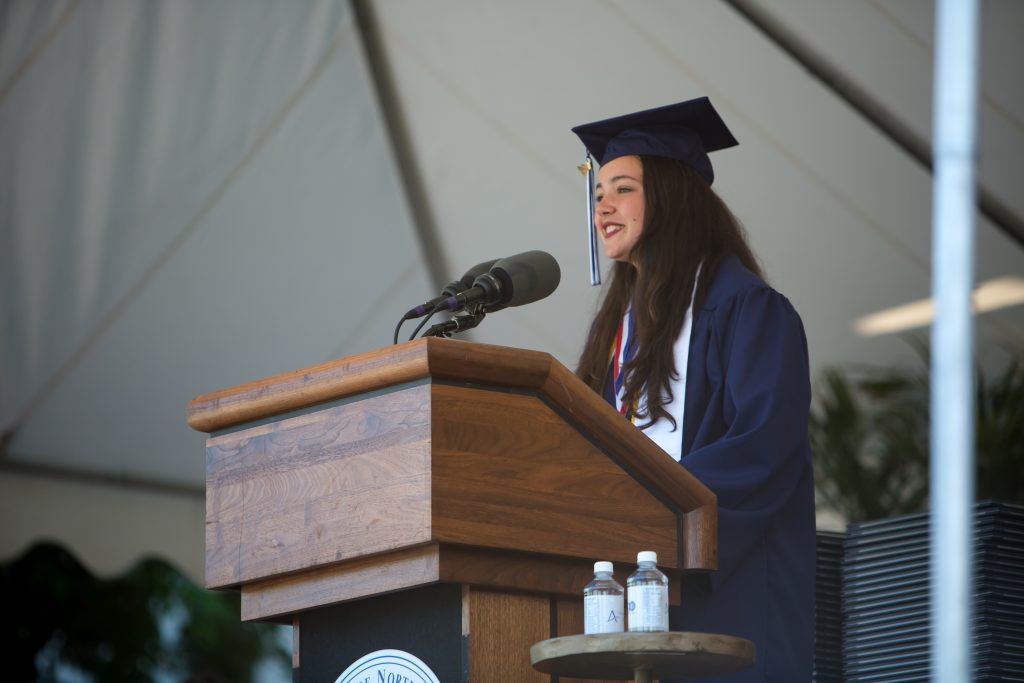 Olivia Godfrey began conducting research during her first year on campus. "During freshman orientation, I visited the Psychology Department table and chatted with Dr. Melissa Smith about my interest in majoring in the program," recalled Godfrey. "Two months later, I was sitting in her developmental psychology classroom, with a growing appreciation for research in human behavior, health, and mental processes. Dr. Smith gave me the opportunity to conduct independent undergraduate research, and mentored me through the grant application, presentation, and publication process for our project."
Godfrey will pursue a Master of Arts in experimental psychology at Appalachian State University, working under a grant from the National Institute on Aging to research cognition, memory, and health in older adulthood. She also received the William and Ida Friday Award for outstanding service to the community.
May 2017

Dylan Cromer earned a full scholarship to Cornell University where he will pursue a doctorate in theoretical astronomy, having had the goal to be a research scientist since arriving at UNC Asheville. "I had in mind becoming a research scientist so that I could spend my time studying a subject I love," said Cromer speaking to his fellow graduates. "But at UNC Asheville, through all the people around me and the experiences I've had, I learned that this isn't all I want to do. I want to have a meaningful social impact on the world."
May 2016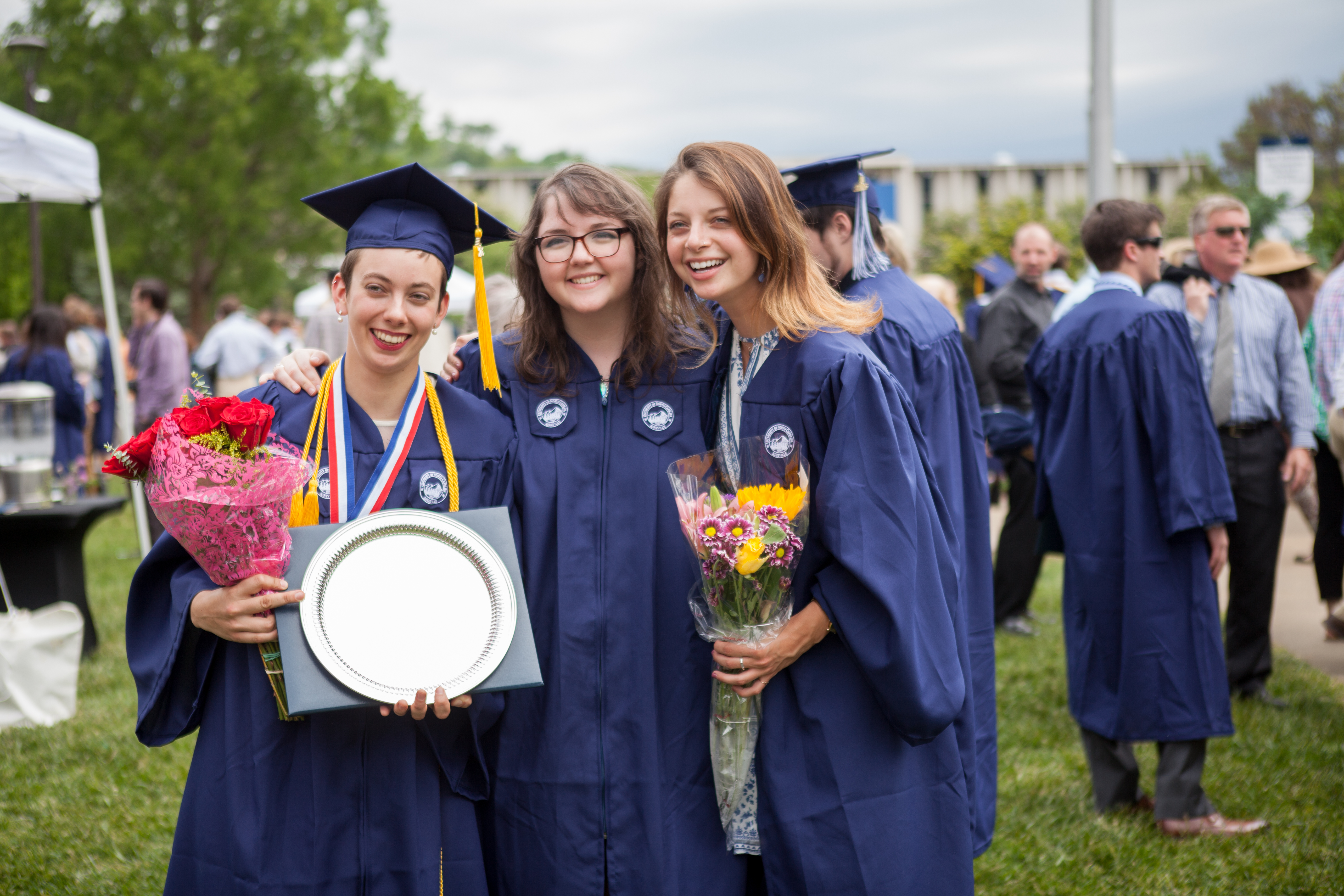 Emily Lanier graduated with a Bachelor of Science degree with distinction in chemistry, distinction as a University Scholar and as a University Research Scholar, and summa cum laude honors. Lanier spent three years researching new methods of synthesizing new antibiotics for the next generation of resistant bacterial infections and presented her work at the national meeting of the American Chemical Society. She also served as a writing consultant at the University Writing Center.
May 2015

Kelly Olshan graduated with a Bachelor of Fine Arts degree with distinction in art, distinction as a University Scholar and as a University Research Scholar, and summa cum laude honors. She also served as a writing consultant at the University Writing Center for three years and as president for the student organization Art Front, and she is a member of the Phi Eta Sigma National Honors Society.
May 2014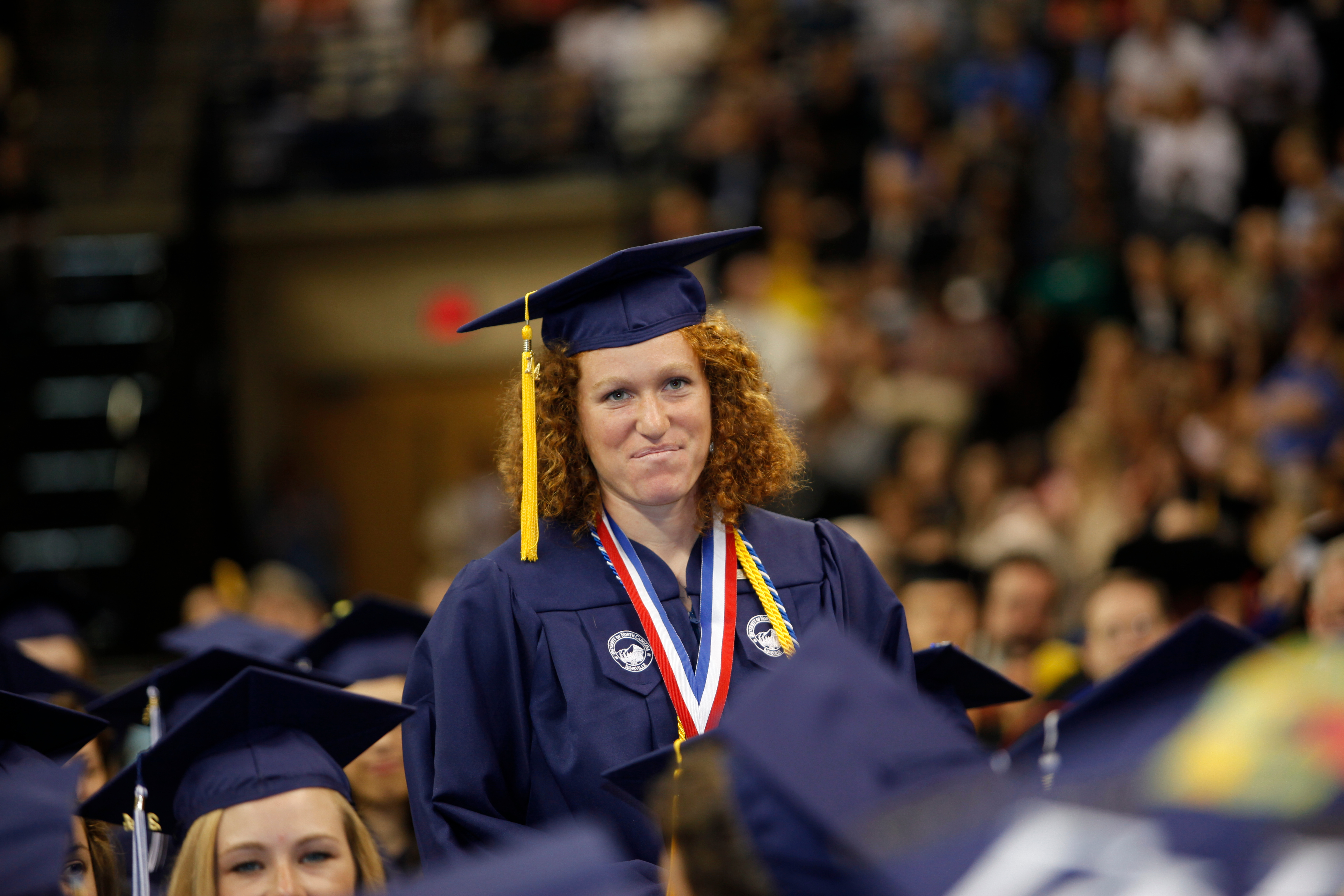 Zoe Hamel double-majored in mathematics and economics and graduated with distinction in both major areas, distinction as a University Research Scholar, and summa cum laude honors. Hamel will pursue graduate studies in the fall at the University of British Columbia in Vancouver, Canada, where she has been offered a research fellowship in pure mathematics.
A native of Sedan, France, Hamel came to UNC Asheville for a rigorous academic experience and a chance to play competitive Division I tennis. She became captain of the women's tennis team and number one Bulldog player in singles and doubles, and made the Big South All-Academic Team her junior and senior years. Hamel also cultivated an interest in food economics, conducting undergraduate research on the impact of interactions between farmers and consumers at tailgate markets.