Resumes
Knowing the basics of crafting a quality resume is an essential lifelong skill. Resumes help you tell your career story, and demonstrate how your experiences, strengths, and skills fit the needs of a particular opportunity. Given this, you should tailor your resume to each job that you are applying for and highlight the specific skills that are needed for that job.
Your resume should always include your name and contact information, your UNCA education, and any relevant experience that you want to highlight. When adding your experiences, remember to avoid paragraphs of text, and instead use bullet points to highlight the tasks you completed and things you accomplished.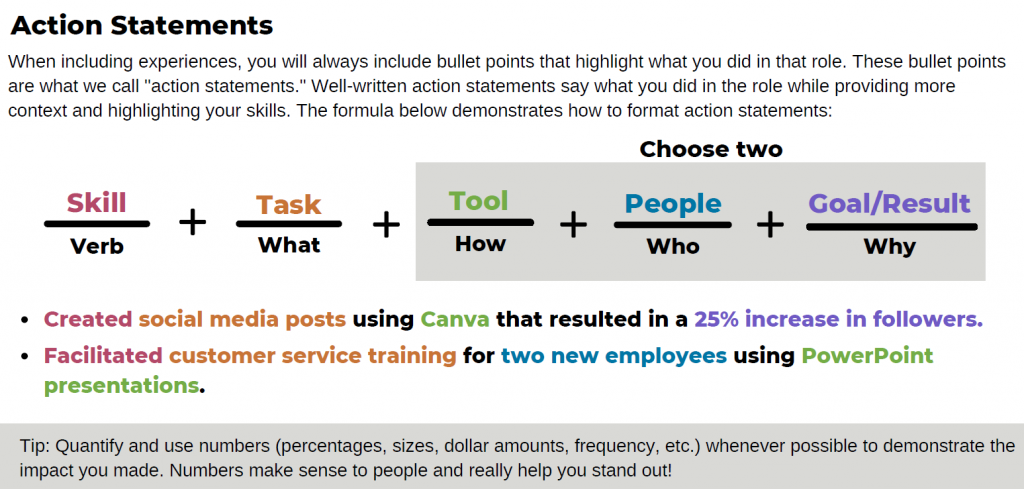 The formatting of your document is just as important as the content. Usually your resume should be one page in length and organized cleanly for ease of reading and finding key information. It's important to make sure that your formatting is consistent and not distracting. Each industry has different expectations for resume design, but most fields prefer resumes that limit or omit the use of color, pictures, unique fonts, graphics, or flashy templates. For some examples of standardized resume formats check out the following examples: Example 1, Example 2
There are many different ways to organize your document and highlight different experiences based on your field and the positions you apply for. Connect with the Career Center to learn more about how to make your resume feel authentic to you, while still helping you stand out.
Check out our Resume Guide for more helpful tips
---
Cover Letters
While your resume provides more information about your specific skills and experience, your cover letter provides an opportunity for you to focus on why. Cover letters allow you to tell your story and introduce yourself in a more personal way. This should focus on what interests you in the role and organization, as well as how your experience relate to the position. This provides you with a unique way to demonstrate your enthusiasm, sell your skills, and help employers learn more about your passions. Given this, each cover letter should be written to each position you apply for and personalized for that employer.
Check out our Cover Letter Guide for more helpful tips
Need more help?
Visit us during drop-ins M-F 12:00-3:00 in the Student Success Hub in Ramsey Library, or