The deadline for Spring 2022 transfer applications has been extended to December 15th.
UNC Asheville offers an education that is affordable, adaptive, and endlessly relevant as the only public liberal arts and sciences campus in the UNC System. With a student body of 3,300 and an average class size of 20, the close, personal attention other campuses strive for is a way of life here.
Continue your journey at UNC Asheville, where every path leads to a new vista, where there's room for every voice, and where your future is a frontier.
---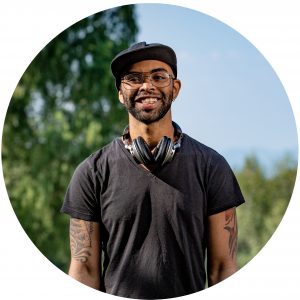 Meet Ralph Day, music technology major and A-B Tech Community College transfer student. Ralph is also a recipient of the CORE Scholarship, a partnership between UNC Asheville and A-B Tech Community College that provides transfer students with a full scholarship at A-B Tech for two years to earn their associate's degree and for two years at UNC Asheville to complete their bachelor's degree.
"It's really cool to be in an environment where everyone, 95% of the co-workers and staff and advisors, people in the cafeteria, is supporting you to do what you need to get done. I have the opportunity to build long-standing relationships with people that actually want me to succeed. The CORE Scholarship essentially saves me from two part-time shifts every week at my other jobs… It's given me the opportunity to focus on earning my degree in Music Technology so I can go on to pursue my dream of hosting my own music festivals." –Ralph Day
---
Transfer Application Requirements
Discovering the unique characteristics of all our applicants is what makes UNC Asheville different. That's why our transfer application review process is comprehensive. Your test scores and GPA are only part of your story, so tell us about your successes, challenges, interests and goals—everything that makes you who you are. We work closely with our transfer students to ensure they have a seamless transition to UNC Asheville.
Non-refundable application fee of $75. This payment does not apply to other university fees.
Official high school transcripts, to be mailed directly by the school, to UNC Asheville's Office of Admission and Financial Aid. Applicants who have an A.A., A.S., A.F.A., B.A. or B.S. degree at the time of application, or who are over the age of 21, do not need to provide high school transcripts.
Home schooled applicants who are NC residents must submit a copy of the "Home School Eligibility Certification," issued by the NC Division of Non-Public Instruction. Non-North Carolina residents must submit official documentation indicating the home school is approved to provide instruction. Official transcripts should include the notarized signature of the home school official.
Official college transcripts from all post-secondary institutions (after high school) previously attended, including those from which you withdrew or earned no credit. The applicant must contact the Registrar at each institution attended and request that an official transcript be sent directly to the Office of Admissions and Financial Aid.
A Transfer Student Academic and Disciplinary Form, to be completed by a school official at current or last attended school.
All students under the age of 21 must satisfy these requirements:
High school diploma or equivalent
Four units of college preparatory English
Four units of mathematics including Algebra I, Geometry, Algebra II, and a class beyond Algebra II
Three units of science including one unit of biological science, one unit of physical science, and one laboratory course
Two units of social studies, including United States History
Two units of a foreign language
A student deficient in one or more of these courses must earn 24 transferable credit hours from a regionally accredited institution before becoming eligible for admission.
Transfer students must be eligible to return to the last school attended, and they typically possess a cumulative GPA of 2.5 or higher on all college course work.
Statement on Civic Engagement
At UNC Asheville, our comprehensive admissions review process ensures each applicant is assessed on an individual basis with the safety of our campus as a primary consideration. We welcome peaceful action and purposeful civic engagement among UNC Asheville students, and also support those actions among our prospective students. Participation in non-violent civil protest and peaceful expression will not influence admissions decisions at UNC Asheville.
---
Transfer Application Deadlines
Spring 2022—December 15, 2021
Notification Date: Rolling
Fall 2022—April 15, 2022
Notification Date: Rolling
All transfer applications are considered Regular Decision.
---
Direct Admission Programs
UNC Asheville offers direct admission to qualifying students transferring from A-B Tech and Blue Ridge Community College. Learn more about the direct admission programs.
---
Transfer Credit Equivalencies
Use UNC Asheville's transfer equivalencies tool to find approved course equivalents. For questions, please contact our Registrar's Office at registrar@unca.edu.
---
Merit Scholarships
Transfer students who submit their application by the application deadline are automatically considered for merit scholarships. There is no additional application. For more information, visit the Scholarships website.
Phi Theta Kappa (PTK) Scholarship
UNC Asheville now awards a PTK Scholarship to students who became members at their two-year institution. Phi Theta Kappa is an international honor society for students in two-year programs, and we'd like to reward those members for their hard work and academic success. Be sure to indicate on your UNCA application that you are a member of PTK so we can recognize your achievement!
---
On-Campus Housing
Our Transfer Living Learning Community provides a supportive, meaningful, and communal living community for new UNC Asheville transfer students. Learn more about our Living Learning Communities.
On-campus housing for transfer students is limited and not guaranteed, so we recommend applying early. More information on housing can be found on the Residential Education, Housing, and Student Life Operations webpages.
---
Transfer Resources
Contact Us
Questions? Please contact:
Assistant Director of Admission & Transfer Admission Coordinator
Brown Hall