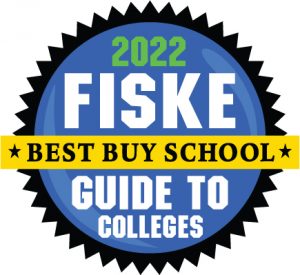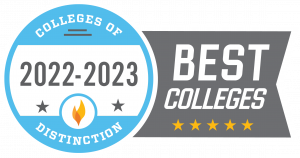 ---
Colleges of Distinction
UNC Asheville has again been recognized for its honorable commitment to engaged, experiential education by Colleges of Distinction. In addition to being named a College of Distinction, UNC Asheville is also listed among the best public colleges nationally, best colleges in North Carolina, and best colleges for Business Education and for Equity & Inclusion as part of the 2022-23 cohort.
The Colleges of Distinction selection process comprises a sequence of in-depth research and detailed interviews with the schools, accepting only those that adhere to the Four Distinctions: Engaged Students, Great Teaching, Vibrant Community, and Successful Outcomes. As an Equity & Inclusion College of Distinction, UNC Asheville makes a concerted effort to promote fair treatment and access at all levels, with resources and programming that grant extra support to underrepresented communities. For the Business Education endorsement, Colleges of Distinction considered such qualities as accreditation, breadth of program, advising and mentoring, integration of career services, and successful outcomes for students.
– Colleges of Distinction, 2022-2023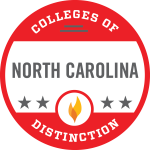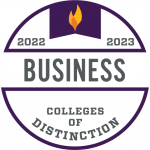 U.S. News & World Report
UNC Asheville ranks ninth in the nation among public liberal arts colleges. U.S. News & World Report also listed UNC Asheville in the lists of Undergraduate Business Programs, Undergraduate Engineering Programs, and Undergraduate Computer Science Programs. In addition, UNC Asheville received high marks in the relatively new social mobility category, ranking 54th among National Liberal Arts Colleges. The social mobility ranking measures how well schools graduated students who received federal Pell Grants. UNC Asheville has made this list for all three years since it was added. – U.S. News & World Report's "2022 Best Colleges" (September 2021)
The Princeton Review
UNC Asheville is featured in The Princeton Review's 2022 edition of The Best 387 Colleges, which includes just 14% of America's four-year colleges. For this milestone 30th edition, The Princeton Review curated a unique resource: 26 "Great Lists." The "Great Lists" identify the colleges in the book with the most impressive history of appearances on the company's annual "Best of" ranking lists over the years. UNC Asheville earned two spots on these historical lists – Great College City and Great Town-Gown Relations.
The Princeton Review selected the 387 colleges and universities based on academic strength and surveys of students. One student quoted said, "My professors are the best educators that I have ever had in my entire academic career," while another student said, "I'm very proud to be a Bulldog and serve and interact with this empathetic, driven, and creative community."– The Princeton Review's The Best 387 Colleges – 2022 Edition (September 2021)
The Princeton Review features UNC Asheville in its Guide to Green Colleges: 2022 Edition, earning a "Green Rating" of 93 out of 99. (October 2021)
UNC Asheville is ranked in the top two nationally on the "Best Schools for Making an Impact" list – No. 1 in 2016 and No. 2 in 2018 – The Princeton Review guidebook, Colleges That Pay You Back: The 200 Best Value Colleges and What It Takes to Get In – 2016 & 2018 Editions. (February 2016 and January 2018)
The Fiske Guide to Colleges
UNC Asheville is once again named a "Best Buy." Only 10 public and 10 private universities make the Fiske Guide Best Buy list each year, selected from the more than 300 four-year schools featured in the publication. – The Fiske Guide to Colleges 2022 Edition (July 2021)
Forbes
UNC Asheville is included in Forbes' "America's Best College Values 2019" list. (August 2019)
Kiplinger's Best College Values
UNC Asheville is among the top 174 best values in public colleges. – Kiplinger's Best College Values (online, July 2019)
Association for the Advancement of Collegiate Schools of Business
UNC Asheville proudly maintains accreditation with AACSB International (Association for the Advancement of Collegiate Schools of Business). We join more than 450 U.S. colleges and universities that have met this high standard of excellence. AACSB is the most recognized, rigorous, and prestigious international distinction afforded to programs in management and accountancy. AACSB praised UNC Asheville's liberal arts mission, characterized by a unique interdisciplinary approach to undergraduate education, and commitment to lifelong learning. Less than one-third of management and accountancy programs in the U.S. earn this recognition and only 5 percent of the 16,000 business programs worldwide are accredited by AACSB.
Military Friendly® Schools
UNC Asheville was designated a 2017 Military Friendly® School by Victory Media, a service-disabled, veteran-owned business. "UNC Asheville is an excellent choice for military members because it provides an exceptional Liberal Arts education at a public institution price. … It also is home to a veteran student organization, the Veterans Alliance, and proactively seeks to support Veterans in their transition into Higher Education." – 2017 Military Friendly® Schools and Employers (November, 2016)
WNC Sierra Club
UNC Asheville was named "Green University of the Year" by the Sierra Club of Western North Carolina. In announcing the award, the Wenoca Chapter cited UNC Asheville's significant sustainability initiatives and the work of the university's Student Environmental Center. (December 2016)
Bee Campus USA
UNC Asheville has been a certified Bee Campus USA since 2016 and was the eighth educational institution in the nation to be recognized. The Bee Campus USA designation recognizes educational campuses that commit to a set of practices that support pollinators, including bees, butterflies, birds, and bats, among thousands of other species. (April 2016)
Arbor Day Foundation
UNC Asheville has been designated as a Tree Campus USA since 2018 by the Arbor Day Foundation. The Tree Campus USA program honors colleges and universities for effective campus forest management and for engaging staff and students in conservation. (March 2018)